Welcome to the Dominion Wikia site! We are dedicated to providing information about the SyFy series, Dominion. A sequel to the 2010 film, Legion, Dominion is set for a 2014 premiere. Fans and anyone interested in the series are welcome to contribute to this wikia and to help it grow into a comprehensive database! So welcome all users! If any user or contributer wishes to contact an admin, they can contact the Founder of this wiki: Gcheung28 (may be inactive on this site) and the Admins: EmpyreanSmoke or Athena Petrova. Also, please respect all users and edit the articles based on information only. Any verbal discrepancies found on this wiki site will automatically be dealt with. Abuse from any account or done to any article will not be tolerated on this wiki site.

Click to see more characters >>

Dominion Trailer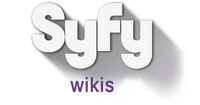 Alex Lannon, played by Christopher Egan, is an orphan with a rebellious and protective streak. He's a grunt soldier in Michael's Archangel Corp but destined for more than his lowly classification in Vega's post-Extermination War society might indicate. He might just be humanity's unlikely savior.
Read more >>

Refresh
See more >

Community content is available under
CC-BY-SA
unless otherwise noted.